HAPPY HALLOWEEN!!!!
Yep, that's right, today, on Halloween, I give you 2018's Halloween!!!
Michael Myers has come back for 1 more go at the lovely Laurie Strode, the girl who got away!!!!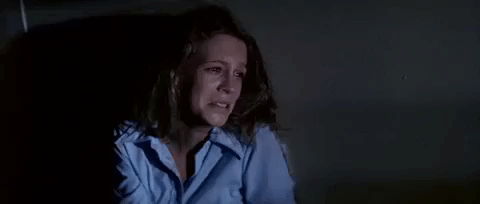 But this time, she's ready for him!!
Now let's be clear, I have not enjoyed any of the sequels to the original 1978 masterpiece, Halloween 3 being the only exception. All the others have sucked for one reason or another.
When I first heard about this rebirth, I was skeptical, then I saw the trailer and my heart raced with excitement!! That bathroom stall, teeth scene, made me cringe with delight!!
So, needless to say, my expectations skyrocketed!
We find Michael Myers, having been captured shortly after his and Lauri'es showdown, in a mental asylum, about to be transferred.
Having never spoken a word in that 40 years, his new doctor is fascinated by him, and now 2 journalists are interested in doing a piece about the "Babysitter Murderer". We instantly are on edge, we can sense Michael's desperation to finish the job he started so long ago.
Obviously we get the "chase" we've been waiting for, as Michael makes his way through Haddonfield one more time, with Laurie on his mind! 
Dealing with one hell of a case of PTSD, Laurie, having alienated herself from her family, has been living her days obsessed with never being caught of guard again. 
Again, we obviously get the showdown the movie has been building up to. Laurie and Michael together again at last, so the final time, winner take all!!
So as the audience member, I got all I expected to see, Michael slaying some neighbors, a couple teens, and causing widespread panic to the town he scarred so many years ago! I was even delighted to see a few homages to the 1978 original, flipping the script and putting Laurie in what was Michael's place a few times, even the masks from Halloween 3!!! I love the fact that they got Nick Castle, the OG "Shape" to play the part, and help guide the other actors playing the role of Michael. I loved the new design of the mask, just a bit of aging on the original was all it ever needed. I like that John Carpenter came back to lend a hand at getting the tone right, but the movie was severely lacking in that sweet John Carpenter music that was so iconic and crucial in the original!
As fun as these Easter eggs were, the film felt a little weak in some areas.
GET READY HERE COMES MY HONEST, I"M SURE UNPOPULAR OPINION!!! LOL!!
I felt that too many of the kills happened off screen, which I know is an old trick to help save a tight budget, but this budget should have been ample enough to give me the kills I've been waiting for. I also know the original didn't really show blood, but I didn't wait 40 years for a bloodless slasher flick!!!
I also think the movie played more like a revenge horror flick than the slasher flick that I feel I was promised. Not that I am not all for GIRL POWER, we all like to see a final girl, but a final girls scene? It felt a little to saccharine for me in the end.
As entertaining as the homages were, I felt it was a little too predictable, and lacked the tension and originality I had wanted to be brought to this epic effort. This movie deserved so much more love, gore, and scares, and it just didn't deliver.
Well, now that I've made enemies on you all…
Halloween (2018) earns itself…
3.5 SQUEALS OF DELIGHT!!!
It's worth the watch for Halloween fans, but don't let the trailer get you hyped, you will be disappointed!
Well, that's all for this Halloween you guys!! Thanks so much for sharing it with me and I hope you had a fabulously fall-tastic October!!!