Hello fellow horror freaks, fans and cinephiles!! With Valentine's Day fast approaching I wanted to offer up some fun alternatives to the traditional activities of Valentine's Day!
Most people are busy making reservations at fancy restaurants, buying up over priced flowers, and candy, along with store bought meaningless, long winded cards!! But not you, your smart you know the way to your loved ones heart is straight through there chest!! HAHAHA!! Or better yet, straight to their heart with horror themed things they will love and cherish!!
For starters, don't even try going out to eat, all the best places are double booked and packed with people doing their very best to act more romantic than they really are, which is always awkward for everyone. Instead stay in this year!! Lets work on a fun and heartfelt evening in.
First things first, maybe clean the house up a little, you know, clear off all the projects you've been working on for the past month, and make room for romance. Once that's done, maybe find a few roses at you local shop, BEFORE Valentine's Day, this way the price is right, and you can try to dry some of them to add some much needed black flowers to your decor.
You can get some inexpensive fabric at the fabric store, and if your lucky it will be considered Halloween, so it will be ON SALE!!!! Take said fabric and drape it across the tables, see… FANCY!!!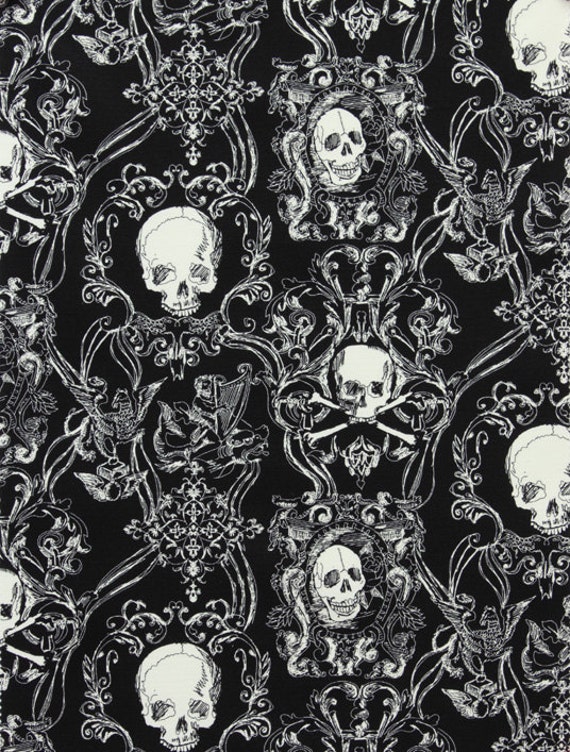 If you're feeling really adventurous, try some red light bulbs, to bring in the traditional colors of the holiday!! Just look how sexy a red room can be!!!
So now the house is ready, lets figure out something tasty and holiday themed to chow down on!!
As a vegetarian, I find pasta to be an easy, quick, and cost effective meal, that is even in the color palette of the holiday. To make it super easy, I chop up my favorite fresh veggies, and add them to store bought sauce. Just saute the veggies and garlic in some oil, then pour in the sauce and let it cook down for a while. It's delicious, and in the budget!! If your loved one, or yourself happen to be into meat, add some meat, or even make some spicy meatballs to add. OK, so I can't have spaghetti without garlic bread, I just can't, so get a good crusty bread from the local shop, mix up some garlic and butter, slather the bread, and oven toast it for maybe 15 minutes! Toss together a salad, and dinner is done!! (See how easy this is??!!)
I think our Valentine is coming along quite nicely, don't you agree?
So decor… DONE, dinner… done, now… what to do??!! Well.. I am glad you asked, I have come up with a super sweet list of movies that are sure to get cupids arrows flying!!
The obvious one would be:
My Bloody Valentine, which is about group of teenagers who throw a Valentine's Day party only to incur the vengeful wrath of a maniac donned in mining gear who goes on a murder spree. You can opt for the original 1981 version or even the 2009 remake. Either one is acceptable, but a bit too predictable for my taste.
A better choice would be:
Let the Right One In, a sweet tale about a bullied boy, whose new friend is not quite what she seems. There was an American remake as well, Let Me In, if you'd prefer not to read your movie.
I also offer up yet another creeptacular love story,
Audition, This is a Takashi Miike, classic tale of love gone awry. Aoyama, a widower decides to start dating again. Aided by a film-producer friend, Aoyama holds auditions for a fake production to function as a dating service. Proving that in all matters dealing with love, it is best to be honest from the start!! This one gets pretty intense and Takashi Miike, is known for his sadistic desire to show his audience all the unflinching, gruesome horrors he has dreamt up. The movie is subtitled though, so if you aren't feeling that international, why not try…
Slither, from the fabulous James Gund, who brought you Guardians of the Galaxy. This movie shows just how tested the bonds of marriage can truly be, especially when a alien organism comes in and takes over your loved ones!
A slightly lesser known, but equally awesome option,
Sightseers, a fun story of a budding romance, and what it takes to make love work… compromise, taking an interest in your partners hobbies, and maybe a little murder to balance it all out!
For a truly romantic story try,
Only Lovers Left Alive! This is such a great story of eternal love, with remarkable camera movement, breathtaking details to sets, and costuming, along with phenomenal acting!! Although its not really a horror movie, it is about vampires, and it is AMAZING!!!
How about a zombie love story?
Warm Bodies, proves that love can even conquer death, or at least zombification!!
Last but most certainly not least,
The Loved Ones, now this one is a horror movie, and a damn fine one at that!! A tale of obsession, unrequited love, and bat shit craziness!!!
So there you have it a long list of movies to entertain you and your love the entire Valentine's Day!!
Don't think I forgot about gifts, it is traditional that you give a token of affection to your partner on this particular evening. In lieu of the traditional teddy bears, chocolates, and flowers, may I suggest a few out of the box ideas??:
This way, next time you have a party to go to, he's all set, and looking super dope too!!
A super cute and fun bouquet of Horror Mystery Minis, would be such a sweet idea!! Open up a box of classic horror icons, instead of a box of candy!! WAY more fun and WAY less calories!!
Another fun alternative gift idea is a Living Dead Doll!! They come in a very decorative coffin, and are filled with the bright happy faces of death!!! This little guy even has kisses to share!!
Or, if you want to go more traditional, how about Teddy Scares?? The adorable little bears who just need someone to love them!! Don't we all need that, especially on Valentine's Day!!
Or to keep it simple and from the heart you can even offer your Valentine a homemade card!! I offer to you some great options to cut, paste, and glitter your way to the perfect gift: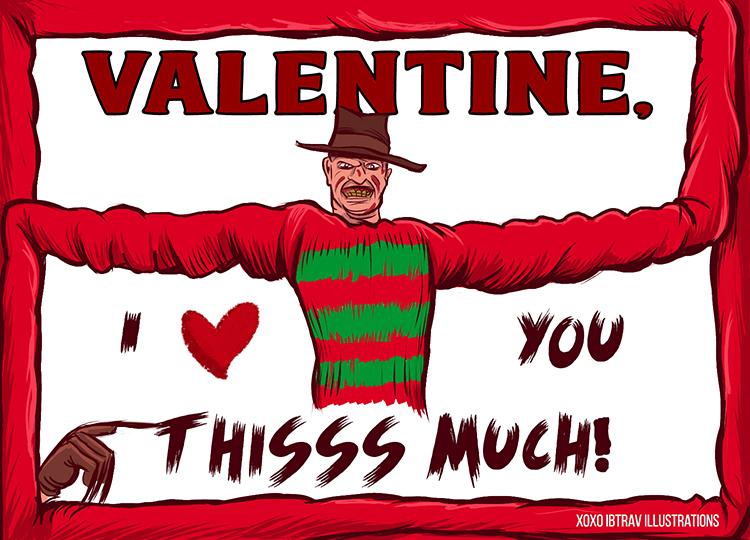 Or you can always go the old fashioned ransom letter style: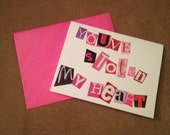 The main thing is to be creative and be yourself when coming up ideas!! Show who you are and why you are so very awesome on this day and everyday!!
Hope you all have a super fantastic, uber romantic, or friend filled fantastic Valentine's day!!! Remember Valentine's is about love, so make sure to show yourself a little love too!!
If you have any fun, favorite Valentine's recipes, craft ideas, or movies, please share them!!!