Well, fellow Living Dead Dolls freaks and fans, they have finally arrived!!!! We just received Series 31 Don't Turn Out the Lights Living Dead Dolls, and I couldn't be more pleased!!! I really feel LDD have stepped up their game with these little creepy cuties.
The set of 5 dolls, Umbral, Thump, Bea Neath, Kreek, and The Dark, come in the classic black coffin, that shows the subtlest signs of a grey wood grain. I do kind of miss the old school coffins that had the handles on the sides, but as long as they keep the classic coffin boxes I'm happy.
Let's start with the top left doll, Umbral.  First off, you should know what umbral actually means: It is a dark area, especially the blackest part of a shadow from which all light is cut off. Astrologically speaking, it is the completely dark central portion of the shadow cast by the earth, moon, or other body during an eclipse. So Umbral is basically the essence of complete darkness and all that hides within that secretive place! Pretty cool, huh??!!!

I think collectors are going to flip over her, I know I did!! Her body is actually 2 toned, the top half of her body being a dark coal black and then it fades translucent mid torso down to her bare toes. I like to think she's black at the top half to hide better in the dark corners of your bedroom, and ghostly transparent on the bottom so she's able to glide effortlessly across your floor without you even spying her! She has piercing red eyes with a werewolf yellow pupil, that give her a wonderfully vacant, yet knowing stare! Umbral's hair is long, black, and velvety, with the softest of waves in it that give the effect of being wind blown and ethereal.
Her dress… well, to put it simply, it's GOTH-TASTIC!!!!!!!!!!!! It is a dress that would delight Morticia Addams!!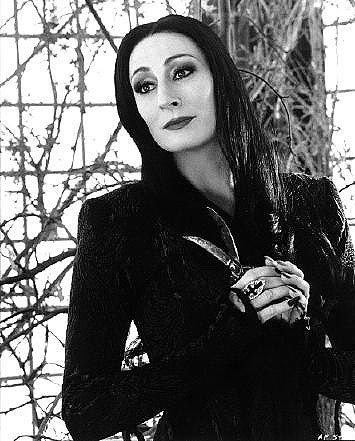 The fabric is lusciously soft, and the cut would make any goth girl faint with rapture! It has extra long belled sleeves, to hide her clutching fingers, with adorably puffed shoulders. The front of the dress has 2 hidden snaps right at and above the empire waist, and has a series of 9 shiny black faux buttons from the neckline down to the hem of this fantastic frock, the bottom edge is a thick, witchy zig-zag cut. What I adore most about this dress though is its hood, which actually has a thin wire running through it allowing you to shape it around Umbral's gorgeous face!!! This is such a wonderful detail to add, and it makes a world of difference in how the complete doll looks!
Next to our little goddess of goth is one of my personal favorites… Thump!! Thump has one of the coolest paint jobs I've seen on a LDD in a long while!! His head looks like it must be from a variant because it actually has holes where the eyes should be, as opposed to being painted on. So, his eyes are missing, and in their place are 2 gaping black holes!! His face being painted a bone white, with a gray shadowing around the empty sockets, somehow makes them seem even more empty and menacing. Atop this sinister face sits a crown of the cutest curls, that could be compared to the hunky Benedict Cumberbatch's in the Sherlock series!!
Now his high collared coat, which is phenomenal and I'll get into that later, the collar not only looks super stylish, it hides the rest of his meticulous paint job. Thump has no distinguishable lips, rather he has a painted on jagged bloody line that splits his lower jaw from the rest of his face. The blood red edge fades into a gum colored pink, and slowly gives way for his slightly yellowed fangs that grow down his would be chin. Even the teeth show shades of yellow and cream to really enhance the ferocity of his animal like grin. Past his beastly jaw, the blackness spills down his chest into a crack that splits him down to his belly, the entire length, contoured with blood red, revealing peaking pairs of eyes. I can only imagine these are the suffering eyes of all the souls Thump has devoured!!
Thump's entire body is the ghostly bone white color, even his clawed fingers, which look as though they could rip a trembling body to shreds!! The coat he wears to hide his horrific disfigurements, along with his collection of victims, is actually a soft fluffed felt-like material, which looks more like a thick wool. The double breasted coat is adorned with 10 faux antique brass buttons down the front, along with buttons over the faux front pockets, the cuffs of his sleeves, along with the epaulettes, or shoulder tabs. This coat was made for the coolest of hipsters and creepsters alike!! Thump also has killer gold and black striped skinny pants that are complimented by his black and gold laced boots!!
We next take a closer look at Bea Neath! Bea Neath is just too perfectly, pretty in pink!! Her soft cupcake pink hair, falls well past her shoulders, and frames her hungry face with delicate bangs! Her pail pink eye shadow shapes her browless eyes in to that of a demon, punctuated with red sclera, white pupils, and just the faintest touch of baby blue, almost a glimpse of the sweet child she may have once been, before the hunger took hold! Her curled up, malevolent smile reveals rows of blood stained teeth, so much blood that it has spilled out onto her pale white skin and is now smeared across her mouth.
Bea Neath's dress is a vintage baby-doll style dress, the epitome of what you would expect to see being worn by an innocent child of almost any era!  It has an oversized, white, velvety textured, Peter Pan collar, an adorable petite black bow, and a row of 3 dainty faux black shiny buttons. The empire waist dress is thinly striped black and or course, pink. She's also wearing black leggins and has on sweet little Mary Jane style black shoes, with faux bow and scallops! She is devilishly darling, all blushed in pink, she is sure to leave many a victim in her wake.
Kreek, reminds me of Michael Myers from John Carpenter's Halloween for some reason. It may be the hair, his blank stare, or just the eerie feeling he gives me! Whatever the reason, I adore this little creep!
Kreek, is the same translucent shade as the bottom half of Umbral, but his entire body is this ghostly hue. I love the fact that he has almost a pompadour style do going on, it even has the feel of being gelled back. At the base of his stylishly coiffed hair he has a black crack that creeps down his forehead, just a little over from that starts the stream of blood gushing down his face.
He as empty black eyes, with white pupils, showing just a hint of a sweet baby blue, to falsely lure you closer to him. This along with his easy, almost calming smirk, you can easily understand how someone might fall prey to him!
Kreek, has on a thick chevron patterned coat in blue and black that is adorned with 5 real, sewn on buttons! This jacket is not quite as fancy as Thump's, but the material is still a great thik textured fabric that is perfect for this doll! The rest of his outfit consists of a cream-colored faux button-down shirt with a suit vest over top. The vest itself has 3 antique brass buttons on it, and it is the same material and green brown color of Kreek's short pants. The entire outfit reminds me of 1900's school boy outfit, right down to over-the-knee black socks and black boots! Kreek's innocent attire and violent persona gives a wonderful juxtaposition, similar to that of of Bea Neath!!
Last, but certainly not least of Series 31, The Dark!! Just where to begin with this macabre beauty…First off we can see she has ultra luxurious hair with heavy straight bangs, which hide her empty sockets! Again, like with Thump, The Dark has the barren sockets, filled only with blackness. They are, however, enveloped in a blood-splattered red ring, spilling down her cheek, accentuated by her high angry eyebrows! The Dark's black lips are open in a scream to reveal a bloodshot eyeball lingering in her mouth! A sight that would cause anyone's scream to be silenced in revulsion and fear!
The Dark's dress is a sumptuous black Victorian-style gown, with puff shoulders that drip down to a double layered bell sleeve. The bodice has 3 embroidered faux frog clasp, and has the look of having 2 layers of skirt, the top skirt is scalloped and pulled up and held with 2 dainty bows, Showing just a hint of her black Victorian boots. All of this gorgeousness is topped with a giant bow on the back of her dress, reminiscent of a bustle.
All of these dolls are truly breathtaking with an insane amount of detail and craftsmanship that went into not only their paint jobs, but also the phenomenal clothes. Every single outfit has a different material and texture, along with having their own unique accents. It gives each doll the opulence you want and deserve in your collection!!
Let me know what you think of the dolls!! Do you have a favorite? Do you think another series is superior? I'd love to hear from you!!!
And if you're looking to buy any, just follow the links, international shipping is available too, just email for quotes!!!!!