Happy Halloween!!!! 
All the jack o lanterns are lit,
all the costumes are made,
                              and all the candy bowls are filled
and ready to trick or treaters!!!
YYYYAAAAASSSSSSS!!!!!! It's finally here!!!!! I couldn't think of a better way to celebrate my favorite day, than with one of my favorite horror movies…
2012's Cabin in the Woods!!
Cabin in the Woods starts out like a normal slasher flick, a group of super good looking friends, heading to… you guessed it, a cabin in the woods!!! 
We even have the usual teen victims lined up:
The hunky jock, Curt (Chris Hemsworth), and his hot cheerleader-esque girlfriend Jules (Anna Hutchinson).
The innocent and pure friend of the sex crazed Jules, Dana (Kristen Connolly), 
The newbie to the group, strong but sensitive, scholarly, Holden (Jesse Williams)
And the, not quite sure how he got invited to the party, jokester/stoner, Marty (Fran/Francis Kranz).
This is where co-writer Joss Whedon's cleverness comes in, what if the senseless killing of partying teens, actually had a purpose? What if those lives lost were a necessary evil, to save the rest of the world!!??
With surveillance set up all over the cabin and throughout the surrounding area, a crack team of scientist watch to make sure things go as needed, with a little help from an outsider, the harbinger, Mordecai (Tim DeZarn).
Once at the cabin, our fab 5 unknowingly choose their own fate, and that's when all hell breaks loose, the horror starts to kick in, and the body count starts to rise!!
Slowly our crew starts to figure out they're being set up. Well, let's be honest, its Marty the stoner starts to realize and of course it takes everyone else a bit longer to believe.
They uncover the secret lab, and we finally get a peek at all the horrors that were lurking in the dark for our victims, just waiting to be set free!!
You can see why this is one of my favorite horror movies, it's filled with bloody goodness and is so clever and funny!! A guaranteed good time Halloween flick!!
Not that you couldn't guess but, Cabin in the Woods gets…
5 SQUEALS OF DELIGHT!!!!!!!!!!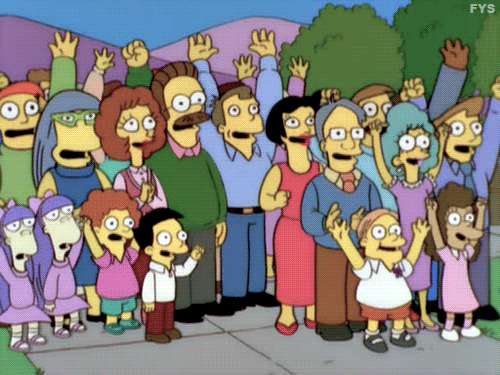 Well, that's all for this Halloween you guys!! Thanks so much for sharing it with me and I hope you had a fabulously fall-tastic October!!!