Happy 12th Day of Halloween, one and all!!!!
On stage today we have the 1983 creeper, Curtains…
starring Samantha Eggar, who you may recognize from Cronenberg's, The Brood…
and John Vernon, who you know from Killer Klowns from Outer Space!!!
Curtains finds Samantha Sherwood (Samantha Eggar) a young, dedicated actress and her director, Jonathan Stryker (John Vernon) attempting to bring to life a movie about an unstable woman, Audra.
So committed to perfecting the role, Samantha voluntarily has herself admitted to a mental facility, so she can get a better understanding of the character.
Abandoned by her director, Samantha eventually breaks out and crashes the private audition party Jon has set up for 6, much younger actresses!!
Predictably, these 6 hot young ladies start to die off at the hands of a killer who wears a wicked looking old hag mask, and is sometimes aided by an even creepier doll!!
Aside from a few cool, creep out moments, like the doll scene, and this classic…
the story lacks cohesiveness and the gore was pretty minimal for an 80's slasher.
Overall, Curtains gets a…
1 1/2 SQUEALS OF DELIGHT!!!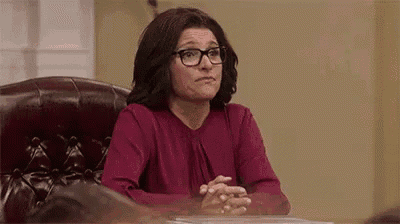 Thanks for stopping by and check back for 19 more DAYS OF HORROR!!!!